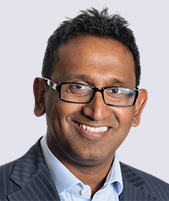 Invited Faculty
PS Sooriakumaran, MD, PhD
Professor & Chair of Urology, Robotic Surgeon Cleveland Clinic London Hospital
London, GB
Expertise: Balanitis, Benign Prostatic Enlargement/Hyperplasia (BPE/BPH), Bladder Prolapse, Erectile Dysfunction, Kidney Stones, Male Infertility Overactive Bladder, Penile Masses, Prostate Cancer, Scrotal Masses, Urinary Tract Infections
FACULTY SESSIONS
Saturday, February 20th 8:10–10:20 am

Prostate Session III – Single Port

Panelist

Surgical treatment for prostate cancer is transforming. The novel da Vinci Surgical System for single port system is safe and feasible. The approach presents satisfactory outcomes for: operative time, hospital stay, pain requirements, catheterisation time, and complications. Patients have reported favourable ratings for scar cosmesis as compared to conventional laparoscopic or open approaches after kidney surgery.