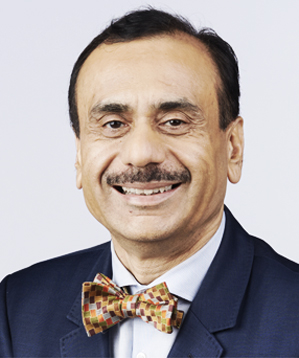 Director
Ash Tewari, MBBS, MCh
System Chair, Milton & Carroll Petrie Department of Urology
Director of Robotic Prostatectomy, Precision UrologyTM & Men's Health, Mount Sinai Health System
Director, Prostate Cancer Program, The Barbara and Maurice A. Deane Prostate Health and Research Center, Mount Sinai Health System
Professor of Urology, Department of Urology at the Icahn School of Medicine at Mount Sinai
Research Interest: Prostate Cancer
Expertise: Prostate Cancer, Kidney Cancer, Laparoscopic Techniques, Robotic Surgery, Cystoscopy, Prostatectomy, Prostate Biopsy
FACULTY SESSIONS
Friday, February 19th 1:40–2:50 pm

Prostate Session II – Retzius Sparing

Moderator

Avoiding the Retzius structures involved in continence and potency preservation and passing through the pouch of Douglas can be oncologically safe and can result in high early continence and potency rates.

Saturday, February 20th 8:10–10:20 am

Prostate Session III – Single Port

Moderator

Surgical treatment for prostate cancer is transforming. The novel da Vinci Surgical System for single port system is safe and feasible. The approach presents satisfactory outcomes for: operative time, hospital stay, pain requirements, catheterisation time, and complications. Patients have reported favourable ratings for scar cosmesis as compared to conventional laparoscopic or open approaches after kidney surgery.